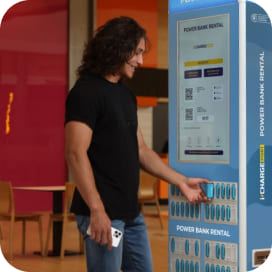 05.05.21
Retail Businesses Using iCharge to upgrade in-Store Shopping Experience
The widespread adoption of smartphones is revolutionizing the retail industry. Today's consumers are not only shopping online through their mobile devices but also visiting brick-and-mortar stores with their smartphones. With more in-store shoppers using mobile devices while in physical stores, it is now imperative for retail businesses to make their environment conducive to the use of smartphones.
When shoppers visit your physical store, they want to be able to use their phones to research products, compare prices, communicate on social media, make payments, and more. A report by Google showed that customers spend more time in a store when they have their smartphones with them. To make shoppers happy and improve customers' in-store experience, retail store/mall owners must provide accessible charging outlets.
The Charge-On-The-Go Solution For Retail Businesses
iCharge provides a practical, universal, and on-the-go phone charging solution for retail customers. With an iCharge station installed at your retail outlet, your customers can rent a power bank easily and charge their mobile devices on the go. With this ICharge Power Bank Dubai Rental solution, shoppers will never have to leave your shop because their smartphones are out of power.
Below are some of the other reasons while retail businesses like yours have installed an iCharge point in their malls or stores:
Increase Customer Spending
According to a study by Google, customers who use mobile phones in shopping centers are likely to spend more money there. When customers have charged phones, they will feel empowered to search for products' information, use online language assistance, make contactless payments, and more. Another research carried out by one of the biggest retailers in Russia also found out that installing power rental stations in stores led to a 15% increase in median basket size.
Upgrade Shopper's In-Store Experience
People often experience anxiety and feel restricted when their smartphones run out of battery. The inability to research in-mall options, check social media, or research products can impact their shopping experience negatively. Having an on-the-go charging option reduces this low battery anxiety and gives shoppers a feeling of control.
Reduce Environmental Footprint
Retail businesses are adopting the iCharge Power Bank Sharing solution in Dubai to increase the sustainability of their services and reduce the world's environmental footprint. Based on the reuse-reduce-recycle design, iCharge collective consumption solution has proven to reduce waste landfills and overall power consumption.
Conclusion
The widespread adoption of smartphones by shoppers in Dubai offers retail businesses an opportunity to attract more customers to their malls or store. Having an iCharge station in your mall will increase your customers' dwell time, upgrade in-store experience, and increase customers' spending.