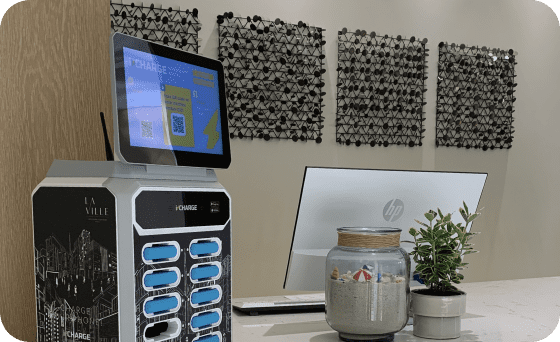 30.03.21
iCharge helping Dubai hotels deliver superior customer service
Dubai's hospitality industry is becoming increasingly competitive. To thrive, hotels are embracing technology to deliver superior customer service. iCharge is helping hotels in Dubai improve their guest experience by offering a smart solution to their guests' most common problem – depleted smartphone batteries.
Hotel guests usually bring mobile devices with them during their stay and expect the hotel to provide easy access to charging outlets. However, in situations where guests can't find a charging outlet, it makes them feel inconvenienced. A recent survey by LG found out that nine out of ten people panicked when their phone battery dropped below 20%.
iCharge Power Bank Rental Dubai Solution
By having an iCharge station set up in your hotel, guests can rent a power bank and charge their phone on-the-go. The good news for hotels is that this iCharge Power Bank Rental Dubai sharing solution comes at no cost to their business. Here some of the reasons why urban hotels in Dubai are having an iCharge station set up in their environment:
Improved Guest Experience
Hotels can impress their guests right from the check-in point by having an iCharge station set up at their receptions. This means customers who need to charge their phones while waiting to get checked-in can do so without hassle. Some hotel guests say they feel disconnected from the world when their mobile devices run out of power.
Increased Usage Of Mobile Keys And Loyalty Apps
Today's travellers expect hotels to have an app where they can make enquiries, check accommodation details and interact with the hotel. So most hotels in Dubai have started investing in technologies like mobile apps, mobile locks, and more. However, having this technology in place becomes useless if your guests' phones are out of power. With the iCharge power bank rental solution in your hotel, you can be sure your guests' devices will never run out of power.
Save Money On Cords And Adaptors
Guests who travel from countries with different electrical outlets will often call housekeeping to get cords and power adaptors to charge their devices. Most times, these items end up missing and your business will have to bear the cost of replacing them. Having a universal charging solution like the iCharge Power Bank Rental station in your hotel means you will never have to worry about cords and adaptors.
Get positive reviews and become the next big thing on Social Media
When travellers visit a hotel, they are likely to write a review and share their experiences on social media platforms like Facebook, Twitter, and Instagram. Having an iCharge station at your hotel will improve your guests' experience and they will likely post about it on social media.
Take Hospitality Beyond Your Hotel's Premises
Dubai has a lot of amazing tourist attractions and architectural wonders that your guests will likely want to explore during their stay. Providing a charge on the go option through iCharge power bank rental Dubai solution will show your guests that you care about their comfort.
Help The World Go Green
By ensuring the efficient use of power banks and sending fully-depleted ones to certified recycling centres, iCharge is helping the world reduce its environmental footprint by promoting collective consumption and reducing waste in landfills.
Wrap Up
iCharge power bank rental solution in Dubai offers hotels a golden opportunity to adopt technology, set themselves apart from the competition, and deliver added value to their guests.